World's Largest Containership Sails Through the Suez Canal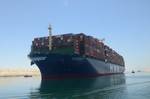 The world's largest containership, HMM Algeciras, passed through the Suez Canal on Monday as the record-setting 24,000 TEU class vessel makes its maiden voyage from Asia to Europe.
Built at Daewoo Shipbuilding & Marine Engineering's (DMSE) Okpo shipyard in Geoje, South Korea, the 399.9-meter HMM Algeciras has a capacity of 23,964 TEU and is the first of 12 vessels of the same class, design and size contracted to be built by DSME and Samsung Heavy Industries (SHI).
Delivered in April, the mega ship is deployed on Far East Europe 4 (FE4) service, one of the Asia-North Europe trade lanes of THE Alliance, with its port rotation starting at Qingdao, Busan, Ningbo, Shanghai, Yantian, Suez Canal, Rotterdam, Hamburg, Antwerp, London Gateway, then Singapore via Suez Canal.
Suez Canal Authority (SCA) Chairman Admiral Osama Rabie ensured a number of highly experienced SCA pilots were assigned to provide the required navigation aids, like escort tug boats, and real-time monitoring of the transit from the Main Traffic Control Office, and various traffic control stations, as the Panamanian-flagged containership transited among the south convoy, via the New Suez Canal, heading from Yantian to Rotterdam.
Admiral Rabie delegated SCA Distinguished Senior Pilot, Capt. Hisham Fawzy, and First Senior Pilot, Capt. Medhat El-Naggar, to board the vessel and welcome its crew as well as present the Shipmaster, Capt. Jon Kiun, with a commemorative gift.