Warship Escorts New Ferry through the Gulf of Aden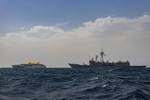 A new Australian-built passenger ferry bound for service in the Canary Islands was escorted by EU anti-piracy forces as it made its way through one of the world's top piracy hot spots.
The first of two new ferries built by Austal Australia for operator Fred. Olsen Express, the 118-meter trimaran fast ferry Bajamar Express requested support of EU NAVFOR Somalia Operation Atalanta for its along transit the International Recommended Transit Corridor through the Gulf of Aden and Bab al-Mandab Strait, while making its delivery voyage to the Canary Islands.
Days before passing through the high-risk area, Bajamar Express stopped transmitting its AIS data in real time as a security measure and prevention against possible pirate attacks.
Spanish frigate ESPS Santa Maria, currently operating in direct support of EU NAVFOR Somalia, then provided a two-day escort through to the Red Sea.
Bajamar Express went on to transit the Suez Canal and is now passing through the Mediterranean Sea en route to its new home port.
Bajamar Express' sister vessel, Bañaderos Express, is under construction at Austal Philippines shipyard in Balamban, Cebu, and is scheduled for delivery in the first half of 2021.