Video: Tanker Crewman Medevaced off Galveston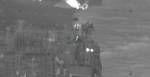 A mariner suffering extreme abdominal pain was airlifted from an oil tanker approximately 225 miles off Galveston, Texas, Tuesday.
The U.S. Coast Guard said the captain of the Bahamas-flagged Chrysanthemum notified USCG District Eight watchstanders of the 28-year-old crewmember's condition, and that the watchstanders consulted with the duty flight surgeon who recommended the medevac.
A Coast Guard Air Station Houston MH-65 Dolphin helicopter crew and a Coast Guard Sector/Air Station Corpus Christi HC-144 Ocean Sentry aircrew were launched to the scene.
The Dolphin helicopter crew hoisted the crewman from the 800-foot ship and transferred him to awaiting emergency medical services personnel at Ellington Airport in Houston where he was reported in stable condition.