Van Aalst Group Launches Nortek Services AS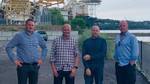 To provide preventive and predictive maintenance services, combined with workshop services for clients operating worldwide in the offshore oil, gas, marine and renewables industry, the Dutch Van Aalst Group recently set up Nortek Services AS in Kristiansand, Norway.
According to Wijnand van Aalst, CEO of the Van Aalst Group and Safeway, the initiative to launch Nortek stems mainly from the rapid growth currently taking place at a number of Van Aalst companies. Safeway from the Netherlands has achieved success with its motion-compensated gangways and Techano in Norway, market leader in the development and supply of load handling and lifting equipment in the aquaculture industry. 
"Now is the time to support this growth with excellent services and to also become the market leader in the field of global services. We intertwine the service for Safeway with the highly competent Safeway operator as first tier of the maintenance, 24/7 the support from Nortek fits perfect to provide remote access and if needed direct availability of service engineers to the location of the Safeway. We complete the service strategy with recently arranged global agreement with component supplier company to provide parts in any port worldwide, the team of Safeway operator, Nortek Services in conjunction with the global instant parts delivery agreement completes the strategy out roll and will provide unprecedented service level anywhere in the world," he explained.
The Van Aalst Group consists of the following companies:
– Safeway: operating fleet of high performance motion compensated gangways for both renewable and oil & gas markets globally.
– Van Aalst Marine & Offshore: delivering pneumatic load and discharge systems for cement carriers as well as dry bulk systems for Offshore Support Vessels.
– Cargomaxx: delivering multipurpose cargo systems for offshore supply vessels.
– CargoSafe: converting existing shipboard and offshore cranes for 3D operation.
– Mulder Europe: producers of environmentally friendly concrete mixers.
– Techano: innovative engineering company specialized in advanced load handling and lifting equipment for the offshore, marine, fishery, aquaculture and renewable industries.
– Nortek Services: full service company providing services to Van Aalst Group company products as well as any third party maker. Midlife upgrade on any offshore cranes of any make including heave compensating cranes.