USS George Washington Overhaul 75% Complete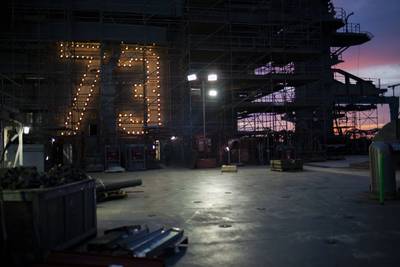 The U.S. Navy's nuclear powered aircraft carrier USS George Washington (CVN 73) reached the 75% completion point of the ship's force work package.
The warship entered dry dock at Newport News Shipbuilding in Virginia in August 2017 to start her fueling complex overhaul (RCOH) period, the sixth Nimitz-class carrier to undergo this major mid-life milestone. In the 34 months since, her sailors have contributed more than 1.3 million work-hours out of the 2,306,996 planned work-hours in the completion of over 196,000 out of 261,340 individual tasks assigned to the ship's force, the Navy said.
"Reaching the fourth quarter of the ship's force work package is an important milestone and a testament to the years of hard work by George Washington Sailors and our partners across the shipyard," said Capt. Kenneth Strong, George Washington's commanding officer. "While the team has achieved many great milestones in the last few years, we are excited about finishing the maintenance period and taking our ship back to sea where she belongs."
The next major milestone on the horizon for George Washington and her crew is crew moveaboard (CMA), scheduled for late summer of this year. The focus will then shift to completing rehabilitation work throughout the ship and implementing a variety of system upgrades, including the installation of an entirely new computer network, with an eye on returning to the fleet.
Built by Newport News, USS George Washington was christened in July 1990 and was commissioned at Naval Station Norfolk in July 1992.
George Washington's RCOH is a multi-year project performed only once during a carrier's 50-year service life that includes refueling the ship's two nuclear reactors, as well as significant repairs, upgrades and modernization. The upgrades and modernization performed during RCOH will take the ship through the second half of her service.