USS Fitzgerald Exits Shipyard 3 Years After Fatal Collision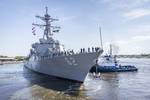 The USS Fitzgerald (DDG 62), which suffered heavy damage and nearly sank off the coast of Japan after a fatal collision with a containership in 2017, departed Huntington Ingalls Industries' Ingalls shipyard in Pascagoula, Miss. Saturday following two years of extensive repairs and upgrades. 
Seven U.S. Navy sailors died when the guided-missile destroyer collided with the Philippine-flagged ACX Crystal on June 17, 2017. 
USS Fitzgerald was damaged on her starboard side above and below the waterline during the collision, and was later damaged again by the heavy lift vessel hired to transport the warship to the U.S.
To restore the impacted spaces to full operations and functionality, various hull, mechanical and electrical (HM&E), combat system (CS) and command, control, communications, computers and intelligence (C5I) repairs were completed. These repairs ranged from partial to complete refurbishment of impacted spaces, to replacement of equipment such as the radar and electronic warfare suite; the ship also received HM&E, combat system and C5I modernization upgrades.
Due to the extent and complexity of the restoration, both repair and new construction procedures were used to accomplish the restoration and modernization efforts.
"Today the 'Fighting Fitz' is returning to the Pacific Fleet as one of our nation's most capable warfighting platforms, marking a significant step in her return to warfighting readiness," said Rear Adm. Eric Ver Hage, director, Surface Ship Maintenance and Modernization and commander, Navy Regional Maintenance Center.
The Fitzgerald crew completed multiple training and certification events, such as Navigation Assessment and Light Off Assessment (LOA), to ensure the crew was at peak readiness to operate the ship as it returns to homeport.
Prior to departing Pascagoula for San Diego, Fitzgerald's crew began a pre-movement sequester on May 23 in accordance with U.S. Navy pre-deployment guidelines—compliance with Navy and CDC guidance is critical to minimize the spread of COVID-19.
DDG 62 is assigned to Destroyer Squadron (DESRON) 1 and upon return to her homeport in San Diego, crew training and certifications will commence in support of Basic Phase Training.
"The collision was avoidable and both ships demonstrated poor seamanship. Within Fitzgerald, flawed watch stander teamwork and inadequate leadership contributed to the collision," the U.S. Seventh Fleet said in a media release following the collision.
The Navy determined that leadership and watchstanders failed to plan for safety, adhere to sound navigation practice, execute basic watch standing practices, properly use available navigation tools and respond deliberately and effectively when in extremis.
Fitzgerald's commanding officer and several other officers on board the ship were relived after the incident.
Two months after the Fitzgerald collision, another U.S. Navy guided-missile destroyer USS John S. McCain (DDG 56) collided with oil tanker Alnic MC, killing 10 sailors. McCain underwent extensive repairs in Japan and is back in service. McCain's crew completed Basic Phase Certification June 2.
The two incidents led to the firing of several high-level Navy personnel. 
A Navy report in late 2017 cited crew exhaustion, skipped certifications, poor watch-standing and training and manning problems among the causes of the collision.