USNS Brittin Arrives at Port of Vancouver USA for Extended Stay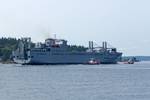 U.S. Navy vehicle carrier USNS Brittin arrived at the Port of Vancouver USA Friday for a stay that will last approximately 90 days while the ship undergoes annual maintenance and inspections required by the American Bureau of Shipping (ABS) and the U.S. Coast Guard. The ship and approximately 30-member civilian crew will be docked at the port's terminals 13 and 14.
The USNS Brittin is returning from a six month deployment in the Persian Gulf. The Navy chose the Port of Vancouver as a layberth destination for the ship over a coastal port location because fresh water is not as corrosive as ocean saltwater and inland conditions are calmer for the maintenance and inspection work to take place.
The 951-foot USNS Brittin is a large medium-speed roll-on/roll-off (LMSR) vehicle cargo ship and is one of 11 LMSRs operated by a subsidiary of Maersk Shipping Company under contract with the Navy Military Sealift Command (MSC). The Command operates approximately 125 civilian-crewed ships that replenish U.S. Navy ships. Some of the activities conducted by the command includes specialized missions, strategic pre-positioning combat cargo at sea and moving military cargo and supplies used by deployed U.S. forces and coalition partners.
LMSRs like the USNS Brittin are ideal for the rapid loading and off-loading of Army wheeled and tracked vehicles, as well as other outsized Army equipment. The ship has four cranes and external and internal ramps and can carry cargos ranging from wheeled vehicles to containers to break bulk on six decks and six holds. In 2017, the USNS Brittin was deployed to provide logistical support for hurricane efforts in Puerto Rico, which included delivering portable generators, water purification equipment, cell phone charging stations and support vehicles.
The ship, built in 2002, is named for Medal of Honor recipient Sergeant First Class Nelson V. Brittin, who was killed in action during the Korean War.