USCG Issues BWMS Type Approval, Receives Another Application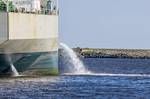 The U.S Coast Guard said it issued type approval to one ballast water management system manufacturer this week and added it is reviewing another system after receiving a type approval application from another.
The USCG's Marine Safety Center (MSC) issued a Ballast Water Management System Type Approval Certificate to Japanese-based Kuraray Co., Ltd., after a detailed review of the manufacturer's type approval application determined the system met the requirements of 46 CFR 162.060.
The treatment principle of the Kuraray MICROFADE II ballast water treatment system consists of filtration with chemical injection treatment at uptake and neutralization during discharge. This approval is the 34th awarded by the Coast Guard and covers six models with maximum treatment rated capacities between 250 and 2,000 cubic meters per hour.
In addition, the MSC received an application for Ballast Water Management System type approval for the Seascape ballast water management system manufactured by China's Elite Marine Corp. MSC will review the application to determine whether the application meets the requirements of USCG regulations in 46 CFR 162.060.