Towing Vessel Crewman Medevaced near Sabine Pass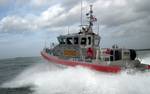 The U.S. Coast Guard said medevaced an ailing mariner from a towing vessel approximately 28 miles south of Sabine Pass, Texas, Friday.
The agency's watchstanders at Coast Guard Sector Houston-Galveston received a report of a mariner experiencing severe sickness and consulted with the duty flight surgeon who recommended the medevac.
A Coast Guard Station Sabine Response Boat-Medium boat crew was launched to the scene and transferred the patient to awaiting emergency medical services personnel at Station Sabine.
The mariner was reported to be in stable condition.