Responding to an Onboard COVID-19 Outbreak
Most cruise lines' operations are now suspended but at the beginning of the year, BSM Cruise Services' managed ships were deployed all around the world.
Martin Springer, Managing Director BSM Cruise Services explains that, while all BSM's managed vessels have advanced procedures and contingency plans in place for any crisis, the COVID-19 pandemic has been an extreme situation.
But he continues; "BSM Cruise Services' commitment to building long-lasting customer relationships and cost-effective ship management – with safety as our number one priority – means that our relationship with our clients is that of a trusted partner, not just a supplier."
As news of the coronavirus increased BSM has been speaking to its shipowner clients more regularly, sharing information about COVID-19, assessing the risk and working to anticipate what might happen next.
Martin explains, "This has been an unprecedented situation, and the main ingredient to successfully handle such emergency is a great team on board and ashore. I really cannot stipulate enough how grateful I am towards everyone involved – including stakeholders like the hotel service providers and of course the clients themselves.
Cruise ships have procedures in place for any kind of issue and outbreak. As more information on the new COVID-19 virus became available, BSM Cruise Services adapted these protocols immediately to the specific circumstances. The MV Artania is a 1,200-passenger cruise ship managed by BSM Cruise Services. When the World Health Organization declared the COVID-19 disease to be a global pandemic on March 12, ports around the world started to close and the cruise was cancelled. The operator immediately offered the passengers on board the ship – most of whom were German – the option to fly home or to sail back to Germany with the vessel.
BSM Cruise Services also implemented rigorous screening protocols for any crew member or passenger joining the ship, enhanced the sanitation measures and introduced daily checking of passengers' temperatures alongside monitoring for coronavirus symptoms.
However, the vessel had just left Sydney when the operator received a call from a passenger who flew home, advising that he had tested positive for COVID-19. A specialist medical services provider was immediately engaged and increased its close working and daily collaboration with the ship owner and P&I Club. But given the highly infectious nature of the disease, it was not long before several other passengers on board were showing symptoms of COVID-19.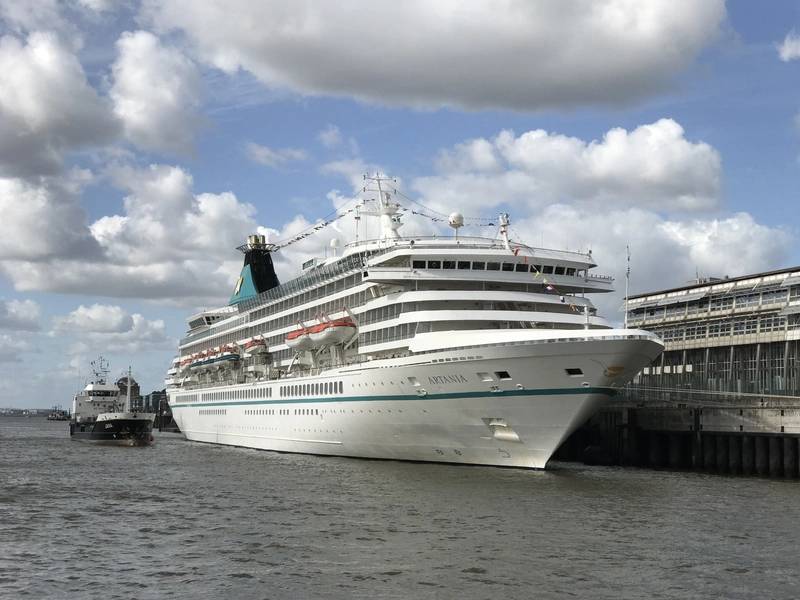 (Photo: BSM)

News travels and at the next port of Freemantle, the arrival of MV Artania faced local opposition and protests. But BSM had already taken significant steps to implement a more intensive cleaning regime, had enhanced its hygiene plans. With the kind support and collaboration of AUSMAT (Australian Medical Assistance Teams) and the Western Australian Health Authorities, BSM Cruise Services prepared the ship for a professional and full 14-day-quarantine period. The vessel was divided into a green and red zone, one cabin per person was assigned and all measures were taken to avoid personal contact and fulfil all hygiene matters.
As required by the authorities, it was agreed that everyone showing symptoms would be tested, those testing negative with no symptoms could fly home or would be placed in a hotel for the quarantine period, and those testing positive would be taken straight to hospital. Passengers with no symptoms were offered the option to fly home or stay in the hotel for a quarantine period too.
Planes were chartered by the operator to fly those passengers and some crew without symptoms home. On arrival in Germany, buses took the passengers to their onward destinations, with everyone socially distanced, the drivers in full PPE and protective screens separating the travellers.
Twelve passengers remained with the vessel, they were unfit to fly home (for other unrelated medical reasons), but they were transferred to a hotel for a 14-day-quarantine period.
The vessel instigated full quarantine measures, separating the ship into a red zone for those crew members still performing essential deck and engine tasks, and a green zone for the remaining crew in quarantine. In just 24 hours, a professional cleaning company was hired, and two external catering companies were engaged to provide meals and to deliver them to those onboard.
Two passengers with underlying health problems died of COVID-19 and a member of crew, and a third passenger died from causes unrelated to COVID-19. BSM Cruise Services and the shareholders of the Schulte Group have conveyed their sincere condolences to the family of the seafarer and the deceased's remains have been returned to their respective home countries.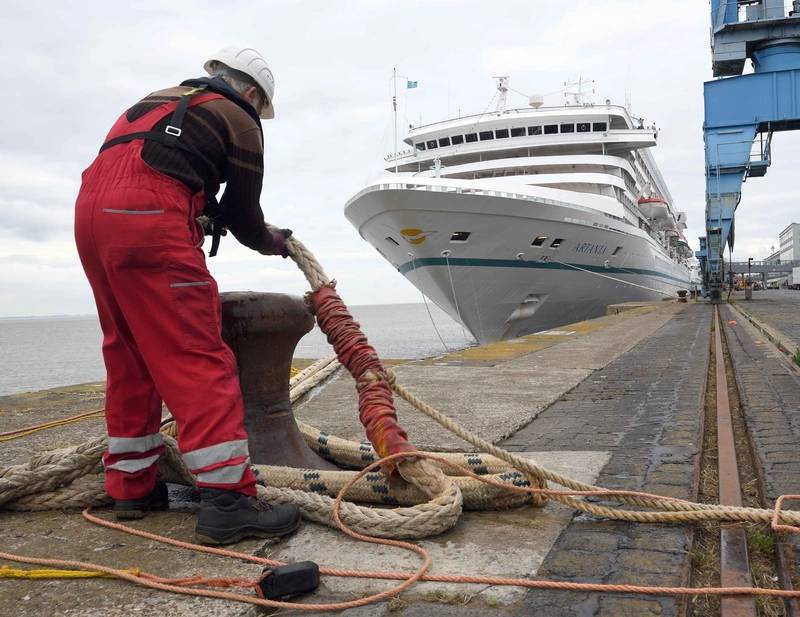 (Photo: BSM)

Quarantine completed, the MV Artania has sailed back to Germany and has berthed in Indonesia and the Philippines allowing several crew to return to their homes.
Martin concludes, "In everything we've done, we've worked hand in glove with our customer, as a trusted professional partner while clearly demonstrating our commitment to efficient and effective business operations and the health and safety of passengers and crew. I am very proud of the team for their outstanding conduct during this unprecedented crisis."
He adds, "Our crew members have been exceptional, clearly demonstrating the value of BSM's commitment to training. Too often training is seen as a cost, but on an occasion like this it's been paid back tenfold, giving us a totally solid committed team to rely on. Our large local presence and agency network has been an enormous benefit in handling this crisis, too."
BSM is supporting its crew as best as it can, the company is unusual in that it has such a direct connection to its personnel and a family style culture across its operational entities. Repatriation has – with global travel restrictions – been incredibly challenging and facilitating crew changes at the end of contracts has become an industry-wide problem.
Martin says, "I am pleased that BSM Cruise Services' comprehensive procedures and exceptionally high standards have helped to deliver peace of mind as much as possible for our customer during this crisis. Moving forward, seafarers must be designated as key workers, this crisis has really shown how vital they are, they are a central part of the supply chain and that must be acknowledged."
Most of BSM Cruise Services' managed vessels are now out of service, alongside with limited crew on board, one has gone into dry dock for repairs, but in each case BSM has worked with the owners to assess the cost and identify the most efficient option for each vessel in such uncertain times.