Pilot Dies after Fighter Jet Crashes in North Sea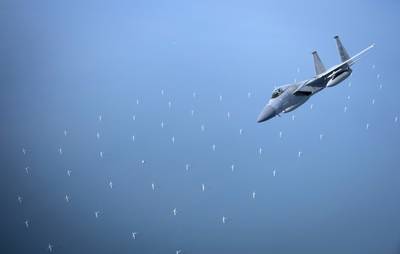 A US Air Force F-15 fighter jet pilot died in an accident Monday after crashing into the North Sea, off Flamborough Head, UK.
Immediately after the crash, a search and rescue operation was launched for the pilot of a United States military aircraft from RAF Lakenheath base.
However, on Monday evening local time, the U.S. Airforce 48th Fighter Wing division said the pilot had been found and confirmed deceased, and the UK coast guard said the SAR had been called off. 
The coast guard had sent a helicopter from Humberside along with Bridlington and Scarborough RNLI lifeboats and had sent mayday broadcast to other vessels nearby.
In a statement on Monday, Royal Airforce Lakenheath said: "A U.S. Air Force F-15C Eagle crashed at approximately 0940 today in the North Sea. The aircraft was from the 48th Fighter Wing, RAF Lakenheath, United Kingdom." 
"The pilot of the downed F-15C Eagle from the 48th Fighter Wing has been located and confirmed deceased. This is a tragic loss for the 48th Fighter Wing community, and our deepest condolences go out to the pilot's family and the 493rd Fighter Squadron," 48th Fighter Wing said Monday evening.
In a subsequent statement, 48th Fighter Wing identified the pilot as 1st Lt. Kenneth Allen, assistant chief of weapons and tactics for the 493rd Fighter Squadron.
Allen first arrived at the 48th Fighter Wing in Feb. 2020, and is survived by his wife and parents.
"We are deeply saddened by the loss of Lt. Allen, and mourn with his family and his fellow Reapers in the 493rd Fighter Squadron. The tremendous outpouring of love and support from our communities has been a ray of light in this time of darkness," said Col Will Marshall, 48th Fighter Wing commander.
According to 48th Fighter Wing, at the time of the accident, the aircraft was on a routine training mission with only the pilot on board. The cause of the crash is unknown.