Norfolk Naval Shipyard Commander Relieved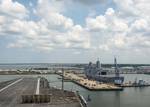 The commander of the U.S. Navy's Norfolk Naval Shipyard has been ousted amid ongoing performance issues in repairing and modernizing the service's ships.
Commander of Naval Sea Systems Command (NAVSEA) Vice Adm. Bill Galinis relieved Capt. Kai Torkelson, due to a loss of confidence in his ability to command, according to statement from the U.S. Navy.
Rear Adm. Howard Markle, Director of NAVSEA's Industrial Operations Directorate (SEA 04), has assumed duties as the acting commander until a permanent relief is named, the Navy said. The current commanding officer of Puget Sound Naval Shipyard and Intermediate Maintenance Facility, Capt. Dianna Wolfson, will reportedly take command of the Norfolk Naval Shipyard by early 2021.
Norfolk Naval Shipyard in Portsmouth, Va. is the Navy's oldest shipyard, and like the service's other three public shipyards, it has struggled to keep up with mounting backlogs and complete jobs on schedule.
A recent U.S. Government Accountability Office (GAO) report found that 75% of planned maintenance periods were completed late for aircraft carriers and submarines in FY 2015-2019, with an average delay of 113 days for carriers and 225 days for submarines. mainly due to unplanned work, identified after maintenance planning is finished, as well as shipyard workforce performance and capacity.
While the GAO report indicated some improvements has been made in recent years, the COVID-19 pandemic has hampered productivity, and continued staffing issues led the the Navy earlier this year to mobilize more than 1,000 reservists to help clear the maintenance backlog at its four public shipyards.