New Zealand's Largest Ever Naval Vessel Delivered in S. Korea
New Zealand Navy's largest ever ship Aotearoa, built by Hyundai Heavy Industries, is on its way to New Zealand, after Hyundai held a departure ceremony in its shipyard in South Korea on Wednesday.
Ordered in 2016, the $493 million Aotearoa is an Auxiliary Oiler Replenishment (AOR) vessel that will be used to support Royal New Zealand Navy's combat operations, humanitarian relief functions, and operational and training support.
The vessel is built according to the Rolls-Royce Environship concept design, with a wave-piercing bow which reduces resistance and lowers fuel burn. 
It is ice-strengthened to Polar Class level 6 for Southern Ocean monitoring and Antarctic operations including the resupply of McMurdo Station and Scott Base.
The 173 meters long Aotearoa will provide global sustainment to New Zealand and coalition maritime, land and air units, and United Nations security operations through resupply of ship and aviation fuel, dry goods, water, spare parts, and ammunition. 
The 26,000-ton tanker and replenishment ship that is the largest the New Zealand Navy has ever operated. 
It will replace the fleet tanker Endeavour that decommissioned in December 2017 after more than 30 years of service. New Plymouth will be the Home Port of Aotearoa.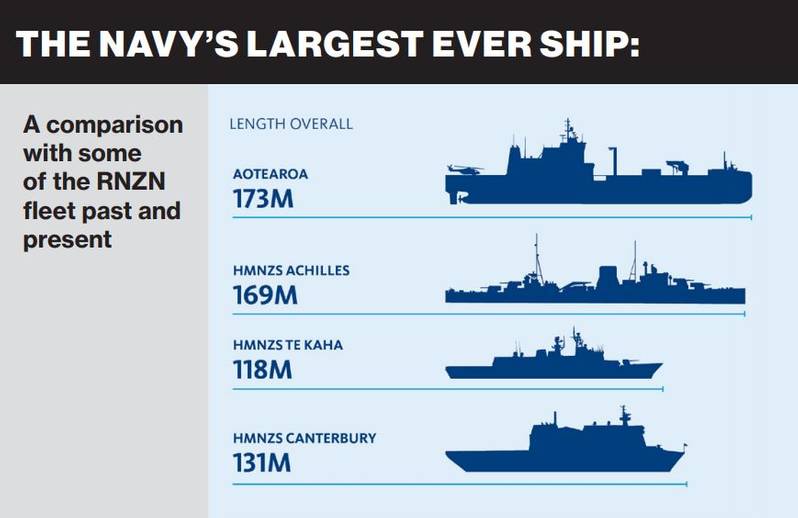 Credit: New Zealand Ministry of Defence