Mike Hooks Orders New Dredge at MPW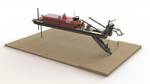 Mike Hooks, LLC has signed a deal with Mobile, Ala. fabricator Mobile Pulley Works (MPW) to design and build a new 27-inch cutter suction dredge (CSD).
The new CSD Lorraine Hooks is being designed to the latest industry standards to maximize safety, comfort, and efficiency. The dredge will house on-board crew accommodations to provide comfort and convenience for personnel while they are onboard. The new accommodations and lever control room will be constructed on vibration mounts to reduce fatigue caused by harmonic vibrations and noise levels. The design process will take all environmental considerations into account and will use a "Green Passport," as conceived by the International Maritime Organization (IMO), to track and inventory all materials used in the construction of the new vessel. The dredge will be constructed in accordance with U.S. Coast Guard regulations and the latest requirements established by the U.S. Army Corps of Engineers, including the implementation of the Dredging Quality Management (DQM) program.
Commenting on the award, MPW owner Billy Prine said they have a longstanding relationship with Hooks, dating back to its first project with them in the 1970s, and according to Prine, "After 45 years it feels like family."
Originally founded in 1945 by Mike and Lorraine Hooks, Mike Hooks, LLC of Westlake, La. is now entering its fourth generation of family ownership. Led by owners Kim Hooks McMahon and Ronnie Hooks, the company provides dredging, marine construction, and environmental remediation services for government and private industry partners throughout the Gulf Coast of the United States. Their completed projects have spanned from Brownsville, Texas to the Florida Panhandle. The company's fleet of hydraulic CSDs provides services that include navigable waterway maintenance dredging, wetland replenishment, beach restoration, harbor excavation and new construction.
In addition to the new dredge, Hooks and MPW are working closely on overhauling many of the key components and equipment on Hooks' existing fleet of dredges. This will include all-new, wear-resistant dredge pumps that provide an efficiency of up to 90%, rebuilding and replacing worn ladders as well as the drives to pumps and cutterheads. MPW has also been contracted to deliver ball joints, pontoons, and pipeline to provide additional support to Hooks' existing and future dredging operations.
"Mike Hooks dredging company invests in America. The Hooks family has been providing top notch Gulf Coast dredging and marine services for decades," said William P. Doyle, Chief Executive Officer of the Dredging Contractors of America. "There is no substitute for the quality American workmanship provided by Hooks and shipbuilder Mobile Pulley. These folks are American owned, American built, American staffed and America Strong."
"The. U.S. dredging industry is a world-class leader in safety, and Mike Hooks, LLC is a prime example, raising the bar on safety and integrating the most advanced designs to reduce fatigue and ensure a healthy workforce," said Michael Gerhardt, Managing Director of the Council for Dredging and Marine Construction Safety (CDMCS). "Hooks' unwavering commitment to safety is as clear today with the announcement of their new dredge as it was when they rallied the industry to address the challenges of dredging near underwater pipelines. The CDMCS is grateful for their support and leadership and congratulates them on this milestone."
Dating back to the late 1800s, MPW specializes in building dredge equipment and wear components. Over the years SPI/MPW has become known for its dredge equipment and components such as ball joints and dredge/slurry pumps. Industrial castings and parts are also made for other industries. MPW offers full services in one location: engineering, pattern shop, foundry, large fabrication, and machine shop. Steel (A27, A148 through some A915) and white iron castings with pours up to 60,000 pound pours. In 2003, Steel Processors purchased Mobile Pulley. Steel Processors was founded in 1982 by Billy Prine, a former machinist at Mobile Pulley. Soon after the purchase both facilities were combined and began operating at the Mobile Pulley facility.