Gulf Island Shipyards Delivers Icebreaking Tug to SLSDC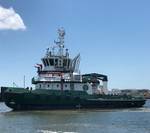 The U.S. Department of Transportation's Saint Lawrence Seaway Development Corporation (SLSDC) announced it has taken delivery of its new 118-foot icebreaking tug, the Seaway Guardian, in Massena, N.Y. Built by Gulf Island Shipyards in Houma, La., the vessel is the first new American-built tugboat to join SLSDC since the Seaway opened 61 years ago.
The new $24 million tug will primarily be used for buoy maintenance and ice management on the St. Lawrence Seaway, replacing the long-serving 62-year-old Robinson Bay, which the SLSDC will maintain as backup. The newbuild is also equipped to assist in firefighting and emergency operational response. 
Based on Robert Allan Ltd's TundRA 3600 design, the Seaway Guardian design is of relatively shallow draft and incorporates an icebreaking bow form. It is classified by ABS as an Ice Class 1A tug.
The vessel is powered by a pair of EPA Tier 4 compliant Caterpillar Marine engines with SCR after-treatment, to deliver a bollard pull of approximately 65 long tons via controllable pitch Z-drive propulsion units. The vessel is equipped with a 20-ton deck crane, a stern roller, shark jaws and a tugger winch for ease of handling aids to navigation on the aft working deck. All equipment is rated for operating in cold winter conditions, and the decks feature a heat tracing system to reduce the accumulation of ice and improve the safety of crew operations on deck.
Barge winches and push knees on the forward deck, along with a towing winch within an enclosed house aft allow the tug to handle barges off the bow or the stern.
Typical complement will be 4-6 crew, however comfortable accommodations are provided for up to 14 persons for extended buoy run missions.

Seaway Guardian's keel was laid in June 2018, and the vessel was launched in September 2019. Sea trials in the Gulf of Mexico were completed in June of this year before the tug began its three-week delivery voyage through the Gulf of Mexico, around Florida and up the Atlantic seaboard to arrive at SLSDC's marine base in Massena on July 2.
"The Seaway Guardian, the first new American-built, American-crewed tugboat to join the Saint Lawrence Seaway Corporation in 61 years, will be a great addition to the Seaway's fleet," said U.S. Secretary of Transportation Elaine L. Chao. "Many thanks to the Wisconsin-based crew that sailed the new tug on its long journey from the shipyard to the Seaway."
The SLSDC is a wholly owned U.S. government entity tasked with operating and maintaining the St. Lawrence Seaway between Massena, N.Y. and Lake Ontario, within the territorial limits of the United States.
Earlier this year, SLSDC ordered an additional, smaller tug to be delivered by Washburn & Doughty Associates, Inc. of East Boothbay, Maine, for planned delivery in 2021.