Georgia Allowing Crew Changes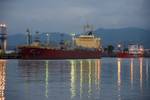 Georgia has become the latest nation to say it will facilitate crew changes amid the coronavirus pandemic, the country's Maritime Transport Agency said.
"It's been more than a month since Georgia has been actively cooperating with the maritime industry worldwide and is involved in the facilitation of crew change process and repatriation of Georgian seafarers. Therefore, the time has come to move to the next stage and become more efficient in the process of seafarers' rotation," Government officials said.
Currently tens of thousands of seafarers are stuck working past their contractual terms on ships worldwide due to border closures and travel restrictions aiming to restrict the spread of COVID-19.
Georgia, which aims to be a "safe hub" for seafarers at the intersection between Asia and Europe, said it will open its shores for crews to access and transit through en route to their final destination.
The Black Sea nation is among the first in the region to have recognized and designated seafarers as "key workers" and to have allowed crew change and rotation.