Fishermen Rescued After Two Weeks Adrift at Sea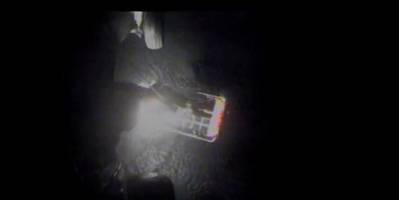 Two fisherman reportedly adrift for two weeks and presumed lost at sea were rescued with help from a good Samaritan towboat crew and the U.S. Coast Guard.
Domingo Jimenez, 45, and Ramon Castillo, 29, both from Santo Domingo, Dominican Republic, departed Samana, Dominican Republic on May 2. On May 5, USCG Sector San Juan watchstanders received a report from a concerned family member stating Jimenez and Castillo were overdue after heading out in their 25-foot vessel to fish approximately 132 miles northeast of Samana.
The U.S. Coast Guard Cutter crews from the Donald Horsley and Richard Dixon along with Coast Guard Air Station Clearwater HC-130 Hercules and Coast Guard Air Station Miami HC-144 Ocean Sentry airplane crews searched for more than 50 hours covering more than 9,690 square miles, nearly the size of Maryland, before they suspended the search on the evening of May 6.
Then, on May 18, Sector San Juan watchstanders received a report from the good Samaritan vessel Signet Intruder crew reporting they were flagged down by Jimenez and Castillo in their vessel. The two men said they encountered severe weather and lost their outboard engine leaving them stranded and adrift.
The watchstanders directed the launch of an Operation Bahamas Turks and Caicos (OPBAT) Jayhawk helicopter crew to assist, which rescued the two fishermen some 23 miles northeast of Cat Island, Bahamas. Jimenez and Castillo were safely transferred to Bahamian Authorities in Nassau, Bahamas.
"These two men were presumed lost at sea but were found and safely rescued because a good Samaritan spotted them," said Cmdr. Juan M. Hernandez, with Sector San Juan.. "Search and rescue cases are very dynamic and very case to case, which is why it's imperative that prior to leaving the docks a person needs to file a float plan, have a VHF radio, have proper emergency equipment, like flares and signaling devices, and life jackets."