Firefighters Evacuated from Listing USS Bonhomme Richard
The U.S. Navy said it has cleared the burning USS Bonhomme Richard (LHD 6) and its adjacent San Diego pier of all personnel due to a shift in the vessel's list. The warship has been ablaze since Sunday morning.
"Out of an abundance of caution the pier and ship were cleared of personnel due to an initial shift in the ship's list. Personnel are now pier side. We will continue to monitor as the ship settles." the Navy said in a statement at 2:30 a.m. Thursday.
The fire, accompanied by at least one large explosion, erupted Sunday morning in the lower cargo hold of the 844-foot-long Wasp-class amphibious assault ship, docked for routine maintenance at its home port at U.S. Naval Base San Diego. Flames have since spread upward throughout much of the ship and into the tower and other structures on the top of the vessel.
Hundreds of firefighters have battled the blaze internally and from the air, land and water over the course of several days in hopes of saving the burning multibillion dollar warship.
Helicopters have dropped more than 1,500 buckets of water onto the vessel to cool the super-structure and flight deck. Tugs have also provided firefighting support from the waterline.
As of Wednesday morning, 63 personnel (40 Navy sailors and 23 civilians), have been treated for minor injuries including heat exhaustion and smoke inhalation, the Navy said. Currently, there are no personnel hospitalized.
The fire's cause is unknown, but the Navy has said there's been no evidence of foul play.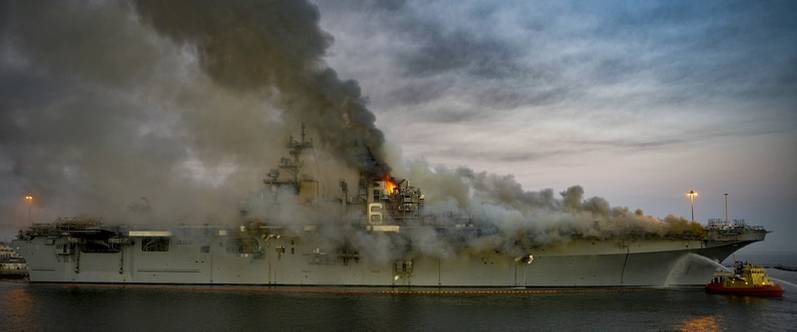 Flames and thick smoke rise from the amphibious assault ship USS Bonhomme Richard (LHD 6) at Naval Base San Diego, on the evening of July 12. (U.S. Navy Photo by Austin Haist)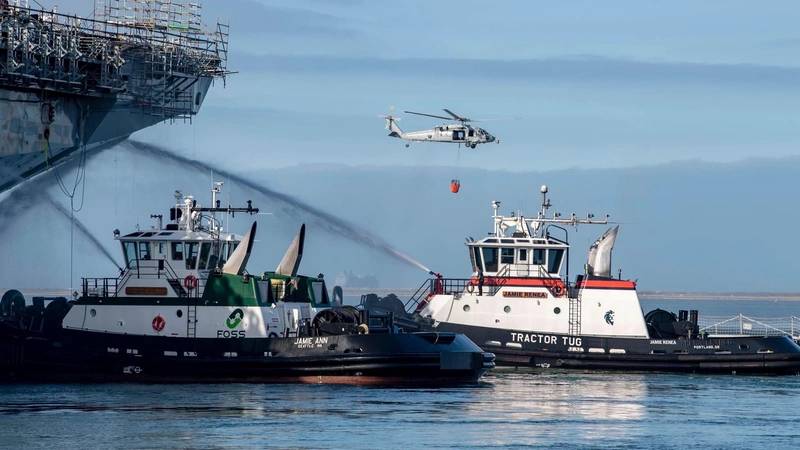 Tugs Jamie Ann and Jamie Renea provide firefighting support on July 15. (U.S. Navy photo)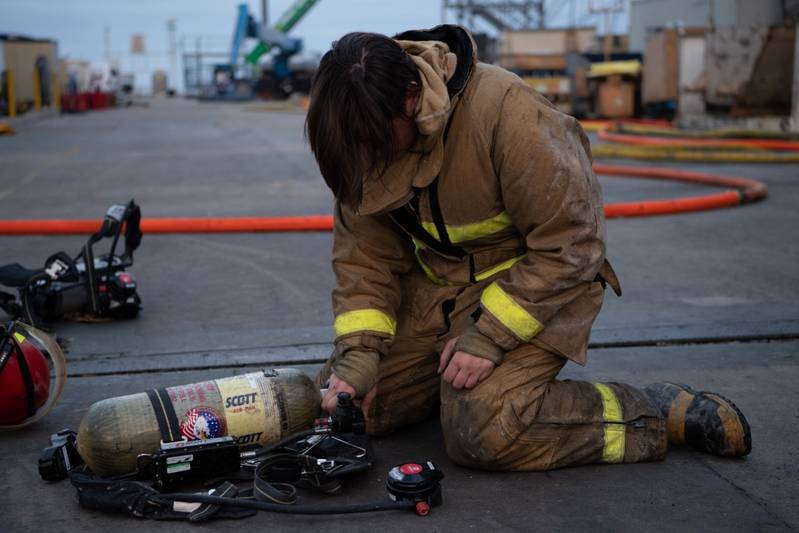 A U.S. Navy Hull Technician examines her firefighting equipment after providing firefighting relief aboard USS Bonhomme Richard (LHD 6) on July 15. (U.S. Navy photo by Lily Gebauer)