Fincantieri Floats Out MSC Seashore
Italian shipbuilder Fincantieri announced Thursday it has floated out the new cruise ship MSC Seashore at its shipyard in Monfalcone. The vessel has been moved to a wet dock where interior outfitting work will continue until delivery to MSC Cruises in July 2021.
MSC Seashore, which will be MSC Cruises' longest ship at 339 metres and the largest and most innovative ever built in Italy, is the third of four vessels in MSC Cruises' Seaside class, following MSC Seaside and MSC Seaview launched in 2017 and 2018 respectively. It is also the first of two Seaside Evo ships with newly designed public spaces, more cabins and higher ratio of outdoor space.
Giuseppe Bono, CEO, Fincantieri, said, "The float out has always been one of the most satisfying moments for those involved in the construction of a ship. It is also the occasion to further strengthen everyone's commitment, because when the ship touches the sea a lot of work has already been done, but much more still lies ahead. This applies even more to MSC Seashore, which will become the new flagship of MSC Cruises: a record-breaking ship, that focusus on innovation, technology and design, and emphasizing the Fincantieri leadership."
Bono continued, "The uncertain situation that we are experiencing worldwide adds even more important value to this day, which bodes well not only for MSC Cruises and for our company, but for the entire cruise industry."
Pierfrancesco Vago, Executive Chairman, MSC Cruises, said, "We are committed to our new builds program, which with each new class of ships sees us innovating and setting new standards in the industry. MSC Seashore will in fact be the largest and most innovative cruise vessel ever built in Italy, featuring the latest and most advanced environmental technology currently available. She will also be one of two new ships for which we will receive delivery in 2021 thus underlying our belief in the long-term growth prospects of the sector—as also demonstrated by the return to service of our first ship earlier this week as well as the investments made in our new health and safety operating protocol which is already setting a new standard for the industry."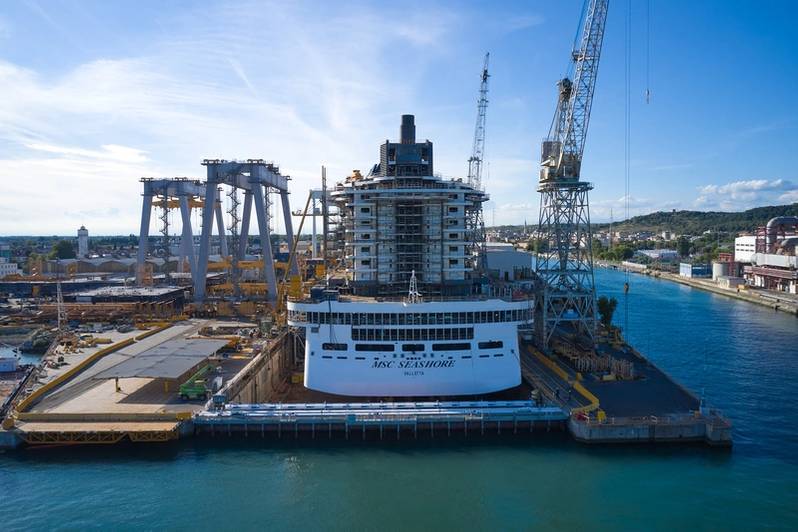 (Photo: Fincantieri)The 169,500 GT ship with a maximum capacity of 5,877 guests, will be equipped with the latest technologies to minimize its environmental footprint.
MSC Seashore is fitted with a selective catalytic reduction (SCR) system to reduce nitrogen oxide emissions by 90%, hybrid exhaust gas cleaning systems (EGCS) that removes 98% of sulphur oxide emissions and a system to treat wastewater to a very high quality where the end product is of a better standard than most land-based municipal waste standards around the world.
The ship also features advanced waste management systems, U.S. Coast Guard-approved ballast water treatment systems, latest-technology systems for the prevention of oil discharges from machinery spaces and various effective energy-efficiency improvements—from heat recovery systems to LED lighting. MSC Seashore will also be fitted with shore-to-ship power which connects a docked vessel to a port's local power grid to further reduce air emissions. This feature is broadly available across MSC Cruises' entire fleet and has been standard across all of the company's new ships since 2017.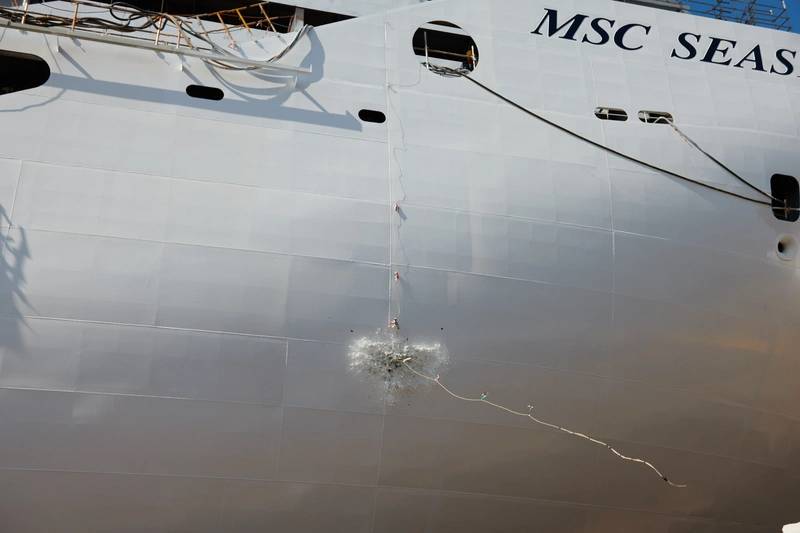 (Photo: Fincantieri)
MSC plans to deploy all three Seaside class ships together in the Western Mediterranean in summer 2021.
MSC Seashore will offer a 'Six Pearls' itinerary calling the Italian cities of Genoa and, for visits to Pompeii, Naples; Messina, Sicily; Valletta, Malta; Barcelona, Spain and Marseille, France. MSC Seaside and MSC Seaview operate seven-night cruises in the West Mediterranean homeporting in Genoa.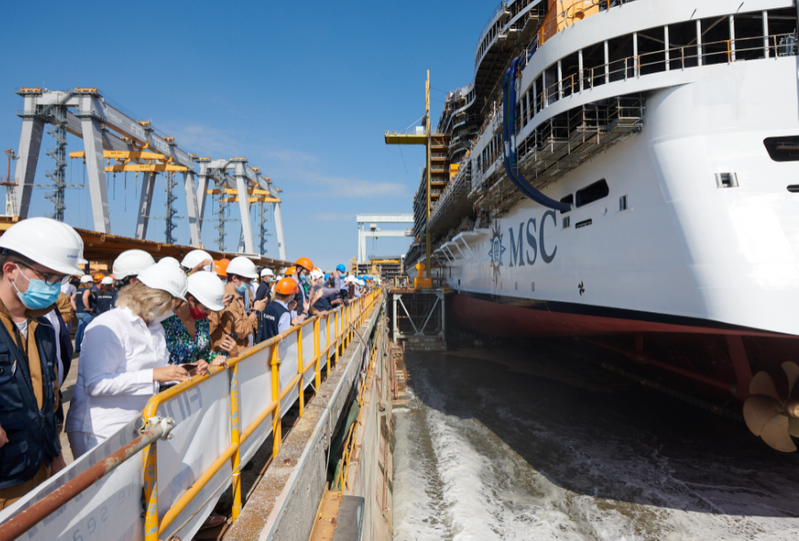 (Photo: MSC Cruises)