European Shipyard Orders Cruise Ship Cleaning System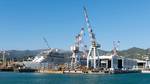 Vow ASA subsidiary Scanship said it has been awarded a 7.8 million-euro contract ($8.8 million) for its cruise clean ship system with major European shipbuilder.
The system will be used for wastewater purification, garbage handling and food waste processing. The Scanship systems will be installed on two mega sized cruise ships entering service in 2026 and 2027, being part of an ongoing six-ship newbuild program from Fincantieri for one of the larger Miami based shipowners. Scanship has previously entered into contracts for the other ships in the program.