Electric Ferry Legacy of The Fjords Delivered in Norway
Norwegian tourist vessel operator The Fjords has taken delivery of a new all-electric catamaran, Legacy of The Fjords, expected to enter service on July 17, ferrying passengers between Flåm and Nærøyfjorden.
Like her sister ship Future of The Fjords, the 42-meter Legacy of The Fjords was designed and constructed by Norwegian shipyard Brødrene Aa, with a hull that echoes zigzagging mountain paths that can be seen from her spacious decks. Both vessels are all-electric, carbon fiber catamarans offering completely emissions-free transport for up to 400 passengers through the UNESCO World Heritage-listed fjord routes.
The NOK 130 million ($13.8 milion) Legacy of The Fjords is propelled by two 450kW electric motors, enabling cruising speeds of 16 knots. Together with Brødrene Aa, the company developed a unique charging station called the Power Dock, a 40m long, 5m wide floating glass-fiber charging station in Gudvangen. The station houses a 2.4 MWh battery pack, allowing for a stable, efficient and cost-effective charging time of about 20 minutes. The dock also stores consumables, fuel for sister vessels, and allows black water to be offloaded for treatment on land.
John Vonli, managing director, The Fjords, notes that the Servogear Ecoflow propulsion system aboard the Legacy of The Fjords is not only a zero-emissions solution, it enhances the passenger experience. "Unlike noisy diesel engines which emit exhaust, the all-electric engines found on the Legacy of The Fjords are clean and silent," he says.
Legacy of The Fjords also includes some refinements. For example, the vessel can be charged and loaded on both sides, and passengers can board or exit from either the port or starboard entryways. In addition, the vessel has space for three dedicated conference zones, each one equipped with projectors, screens and audio systems. "In addition to catering to companies or organizations seeking a unique place to plan events, the new layout provides a more flexible solution for docking and loading procedures," Vonli explains.
"Our mission has been to share the fjord experience with as many people as possible while reducing our impact on a fragile eco-system," he says. "With three ships powered by clean electricity now in operation [including the diesel-electric Vision of The Fjords], we can welcome up to 1,200 visitors at a time to enjoy a unique experience without compromising the environment."
Co-owned 50/50 by Norway's largest ferry company Fjord1 and tourism company Flåm AS, The Fjords, founded in 2015, operates a fleet of seven tourism and transport vessels on the Western Norwegian fjords.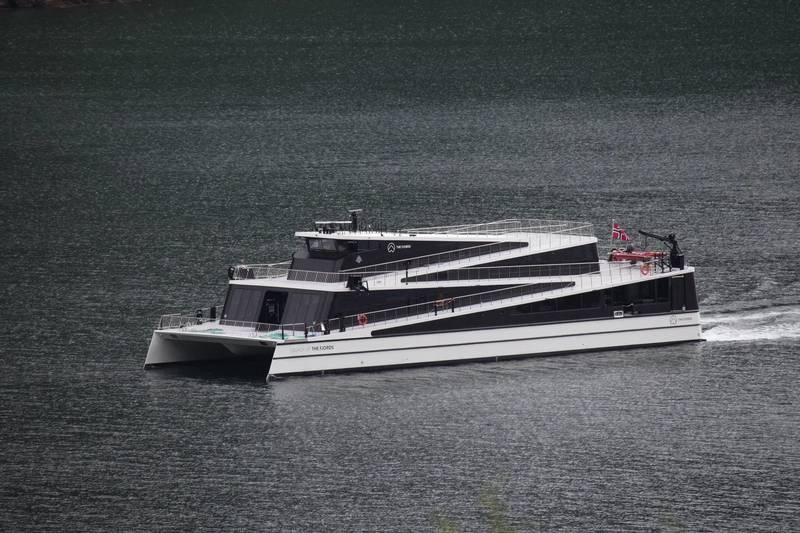 Legacy of the Fjords (Photo: The Fjords)Legacy of The Fjords
Length: 42.23 meters
Beam: 15.5 m
Materials: Carbon fiber sandwich
Seats: 400
Class: DNV GL light craft
El-motor: 2x 450kW
Propeller: CPP propeller
Battery pack: 1,800 kWh