Cox Diesel Outboard Passes EPA Tier 3 Testing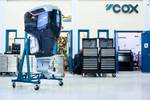 Cox Powertrain announced its 300-horsepower diesel outboard has achieved U.S. EPA Tier 3 approval for commercial and recreational applications.
Cox's CXO300 is a new design built for purpose, meaning the manufacturer had to work with the EPA to perform rigorous testing to prove the engine's ability to meet emission standards.
Joel Reid (Global Sales Director), said, "We developed a diesel engine with a much lower carbon footprint than an equivalent gasoline outboard. So far, those who have joined us on sea trials have commented favorably how quiet, smooth and clean the engine is."
Production of the CXO300 started in May at Cox's UK based headquarters in Shoreham-by-Sea and the first outboards destined for the U.S. market are due to be shipped in June.
Reid told Marine News magazine recently that Cox is planning to expand its range of diesel outboards to include higher-horsepower versions in the near future. "We are already working on new models, and we hope to be able to share more information by the end of the year in preparation for a 2021 launch."