Bulk Carrier Grounds Near Norfolk, Va.
U.S. Coast Guard and Port of Virginia personnel are assisting the crew of a bulk carrier that ran aground near Norfolk, Va. on Wednesday night.
Watchstanders at the Coast Guard Sector Virginia command center received notification from crewmembers aboard the the Panamanian-flagged Hong Dai stating the 738-foot bulk carrier ran aground on a soft sandy bottom approximately 400 meters Northwest of Sewell's Point, the Coast Guard said on Thursday.
The Hong Dai crew reported no injuries, pollution or flooding concerns at the time.
Sector Virginia investigation crews boarded the ship Thursday morning and are helping the ship's crew to assess damages and the threat of pollution.
A 45-foot Response Boat – Medium boatcrew from Coast Guard Station Portsmouth also responded to the incident as well as the Port of Virginia's Maritime Incident Response Team.
The vessel remains under a Captain of the Port order to remain in place, and the Coast Guard is currently in communication with the ship's owner to assist in establishing a salvage plan.
The 2010-built bulker is operated by COSCO Shipping and arrived at Norfolk anchorage last Friday from Baltimore following a transatlantic voyage from San Ciprian, Spain.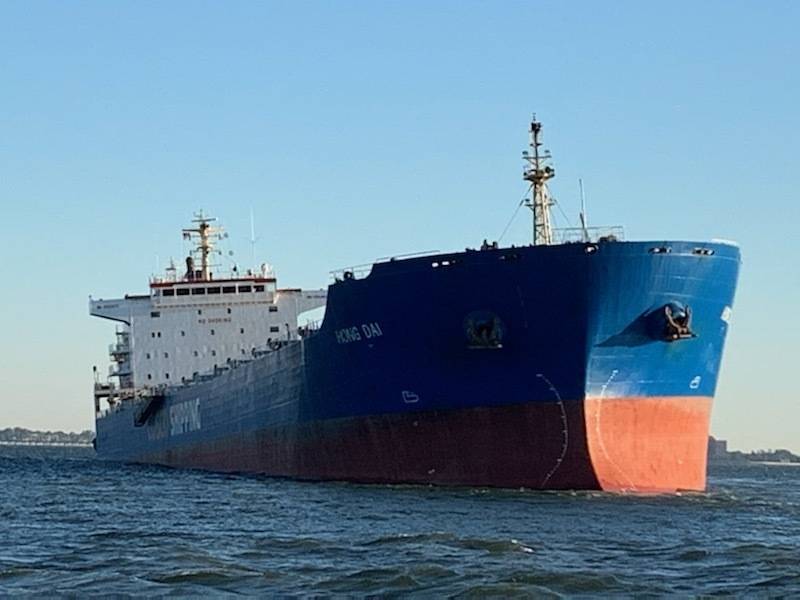 The Panamanian flagged 738-foot bulk coal carrier ran aground on a soft sandy bottom Wednesday evening, and the Coast Guard is assisting the ship's crew in assessing damages and the threat of pollution. (Photo: U.S. Coast Guard)