Australian Navy Commissions Destroyer HMAS Sydney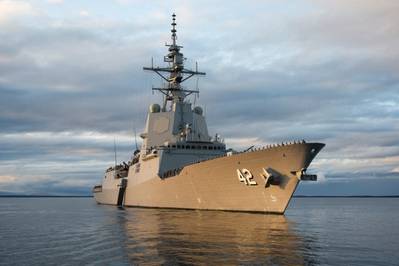 The Royal Australian Navy welcomed its newest Air Warfare Destroyer, HMAS Sydney, into the fleet in the first commissioning of an Australian warship at sea since World War II.
Commissioned during a ceremony off the coast of New South Wales on Monday, Sydney is the last of three Hobart Class vessels built for Navy at Osborne in South Australia and is based on the Navantia F100 frigate design.
The 147-meter-long guided missile destroyer is equipped with advanced combat systems, providing layered offensive and defensive capabilities to counter conventional and asymmetric threats.
The warship is the fifth in the history of the Australian Navy fleet to bear the name Sydney.
Sydney's Commanding Officer, Commander Edward Seymour, said, "It isn't often in a naval career that you are part of commissioning a brand new warship, but to do so at sea and carrying the significant legacy behind the name Sydney, is a special feeling for the entire ship's company."
"A lot of hard teamwork has led us to this moment of bringing a world-class warship into the fleet and we're eager to now prove what Sydney can do."
"She brings an outstanding, Australian-built air warfare capability over an exceptional range and gives Navy a surface combat capability like never before."
Sydney will now undergo her test and evaluation period where she will integrate into the fleet and Navy personnel will develop their proficiencies with her Aegis combat system.
Sydney's sister ships, Hobart and Brisbane, were commissioned in 2017 and 2018 respectively, and all three vessels are homeported at Fleet Base East in Sydney.
The first Royal Australian Navy vessel to be commissioned at sea was World War II stores carrier HMAS Matafele, commissioned on in January 1943.