Abu Dhabi Ports Launches Feeder Service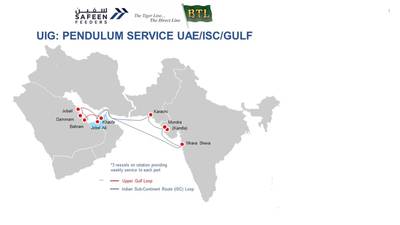 Abu Dhabi Ports has established a new feeder services company, SAFEEN FEEDERS, to serve the group's mainliner shipping clients in the Gulf region.
SAFEEN FEEDERS will introduce a new feeder service linking Abu Dhabi to ports serving the UAE, the broader Gulf region and Indian Sub-Continent. The service will be executed in partnership with feeder service operator Bengal Tiger Line (BTL) through a vessel sharing agreement.
The service will allow for exchange of container cargo between mainliner vessels and the vessels within the rotation calling at nine regional ports located across the UAE, Saudi Arabia, Bahrain, Pakistan, and Western India.
SAFEEN FEEDERS' pendulum service, called the UAE-Indian Sub-Continent Gulf Service (UIG), will be delivered by three 2,700 TEU vessels (nominal capacity) via the following 21-day rotation calling: Khalifa Port; Jebel Ali Port; Karachi; (Kandla); Mundra; Nhava Sheva; Khalifa Port; Jebel Ali Port; Bahrain; Dammam; Jubail; and, Khalifa Port. The service will commence during week 27 with the first departure from Mundra is expected to take place on Tuesday, June 30, 2020.
In the medium term, Abu Dhabi Ports and Bengal Tiger Line expect to expand the service to ports in the broader Gulf region. Over the long-term, the new company will explore further service opportunities at container terminals in the Red Sea and East Africa regions.